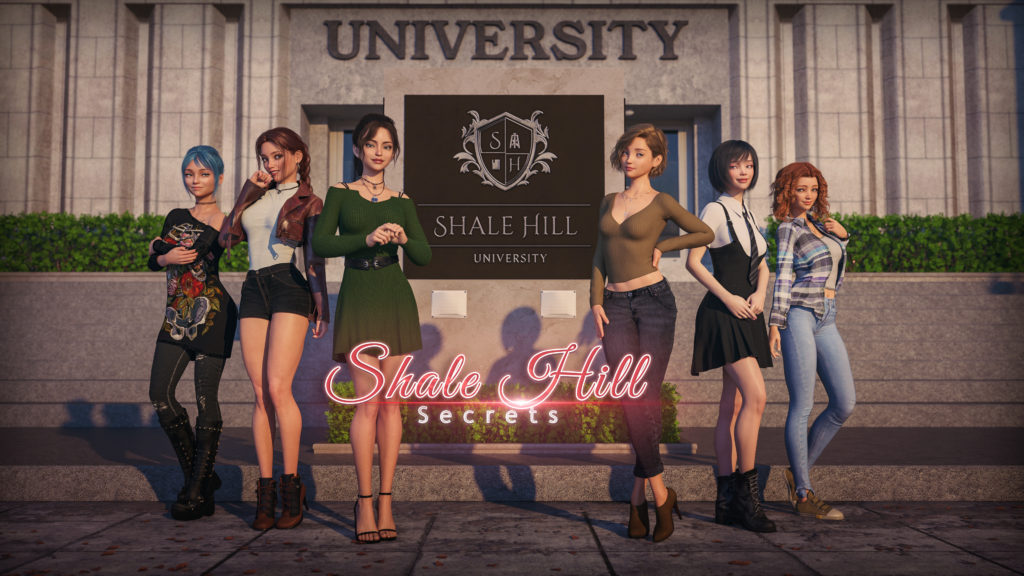 The time has finally come… the first installment of Shale Hill Secrets is here!
We know you are very keen to play, but please read the full post first for some important information.
Game Information
The most important thing to remember is that this is an alpha release, so please report any bugs or issues to #bug-reports or #typos in our Discord channel. This first release is an introduction to the game's world, meaning it's shorter than we are planning in the future, and that there is not yet any sex scenes. The engine is different from the one used in Double Homework (it was all revamped), so a lot of changes have been made. We have tested the game extensively in the past few days, however, some bugs may still appear. If something strange happens during your playthrough or if it doesn't seem right, please, let us know in our Discord channel.
Please do not post bugs reports here on Patreon. It's hard to track and give you guys proper assistance. If you don't have a Discord account, please send us an email instead to [email protected]
Platform Change
As we have stated previously, this game has moved away from HTML5 and will instead be a downloadable. Right now, for this specific release, the only supported platform is Windows (64-bit only). The game should run in any up-to-date system with Windows 8 or newer. However, we recommend Windows 10 since that's what we use for development and testing.
This move enables us to add more exciting features and bring less linear gameplay to you, as being web based came with a bunch of limitations that wouldn't allow us to expand. You will see some of these new features in this release of the game, and we hope to expand on them as the game moves forward!
Mac and Android
Mac OS and Android builds are being worked on and will be released as soon as possible, with Mac coming first (hopefully within the next week). My sincere apologies of not having these builds ready today.
Release Schedule
With Shale Hill Secrets, we have made the decision to move away from a monthly release schedule. We know many will be disappointed by this, but we have no doubt in the long run that patrons will be greater rewarded.
As we said above, we have moved away from HTML5 to bring less linear gameplay and more features, giving the player more control of their options and choices in the game. With this in mind, a monthly deadline wouldn't allow the team to bring this type of experience to you. Right now, we are aiming to release a new content update every 6/8 weeks. This doesn't mean the team will be taking a month off in between releases, just that each update will take more work and bring in more content with better quality than before.
Shale Hill Secrets
Shale Hill Secrets is about a guy who stumbles upon a great deal of power – he sees into people's private lives. He uses it to help others, but also uses it to develop personal relationships with people that would've been difficult otherwise. The deeper he goes down the rabbit hole, the more likely he is to encounter the real powers that puppeteer his fate and those of his classmates.
Developed by Love-Joint
Ricky | Producer, Code, Engine
AW | Plot, Writing, Direction
NiRo | Character Design, Art
Mr. Vargas | Character Design, Art
Zed | Marketing, Art
Luke | Marketing, Art
In Memory of Palmer.
Click here to head to Patreon and download the game!
We hope you enjoy this first release of Shale Hill Secrets. We are really excited for you to see more of what we have planned. Thank you all again for your fantastic support!
Keep safe and see you soon,
The Love-Joint Team.